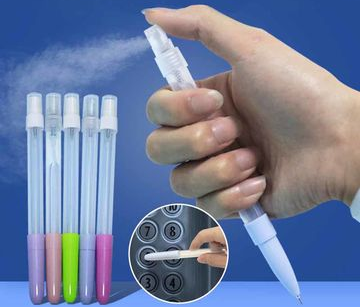 Sanitizer spray pens are currently among the top 20 most popular lifestyle products on GlobalSources.com in terms of buyer interest. But why?
Part of it is the coronavirus-driver high demand for hygiene and personal care products in general. But hand sanitizer spray pens are witnessing unprecedented growth, which other products are not. We can put some of that down to them being a new product – wind back the clock 10 or 20 years, and they simply don't exist. So it's a little easier for them to set records. But there's more to it than that.
The rise in popularity of sanitizer pens among consumers is boosted by their practicality and convenience to be carried around, making them perfect for those on the move. They fit in your pocket or bag, but they still do the job a bulkier sanitizer spray bottle would do.
They're also multifunctional. Which is to say, they're still pens you can write with. And for that matter, press elevator buttons with. Don't overlook this! People need to carry pens anyway, which means that a spray pen isn't taking up extra space in your bag. It's taking up space you already accounted for. Multifunctionality is a key differentiator in many product categories. Sometimes that comes off as bandwagon-jumping or simply a little random: witness the vast number of products that seemed to suddenly have Bluetooth speakers added to them starting around four years ago.
But when the use cases match, multifunctionality is practical and becomes attractive for consumers. And that's what sanitizer spray pens do: they combine functions that are needed in the same scenarios – out around town, in the office – and the combined product is as portable as each single-function product would be separately.
These sanitizer spray pens are currently some of the top 20 most popular lifestyle products on GlobalSources.com –
Refillable Hand Sanitizer Spray Pen
Sunway Stationery & Gift Co.
Hand Sanitizer Spray Ballpoint Pen
Xiamen Premium Import & Export
Smartsing Trading Co.