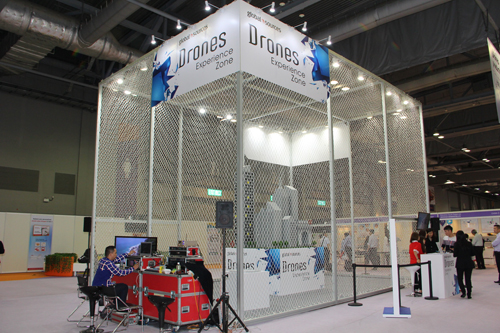 Show visitors can get their hands on the latest drones at the Drones Experience Zone at the Global Sources Mobile Electronics show from October 18-21 at AsiaWorld-Expo in Hong Kong.
Drones suppliers and manufacturers participating in this event include:
Apex Toys (Shenzhen) Co. Ltd
Changzhou Amass Electronics Co. Ltd
Feiyu Electronic Technology Co. Ltd
FlyPro Aerospace Tech Co. Ltd
HuaSun Technology LLC
IMG Electronics Co. Ltd
Power Idea Technology (Shenzhen) Co. Ltd
Shanghai Nine Eagles Electronic Technology Co. Ltd
Shenzhen Chuangxinke Electronic Ltd
Shenzhen Joy Honest Technology Co. Ltd
Shenzhen Optostar Optoelectronics Co. Ltd
Shenzhen Qunxi Electronics Co. Ltd
Shenzhen South Digital Ltd
Shenzhen Suoyang New Energy Co. Ltd
Shenzhen Weccan Toys Co. Ltd
Shenzhen Xiaoxi Technology Co. Ltd
The October 2015 Global Sources Electronics show is expected to again be the world's largest electronics sourcing show. It will feature a rich array of products in some 5,800 booths from suppliers in China, South Korea and throughout Asia.
The first phase runs from October 11-14, and is focused on home, office, and auto electronics – plus security products and electronic components. See 5 big trends from the April 2015 show.
The second phase, Mobile Electronics, will be held from October 18-21, and will feature the latest smartphones, tablets, wearables, accessories and drones.
---