Service robots are proving to be highly useful in today's pandemic and are expected to increase in value in the years to come.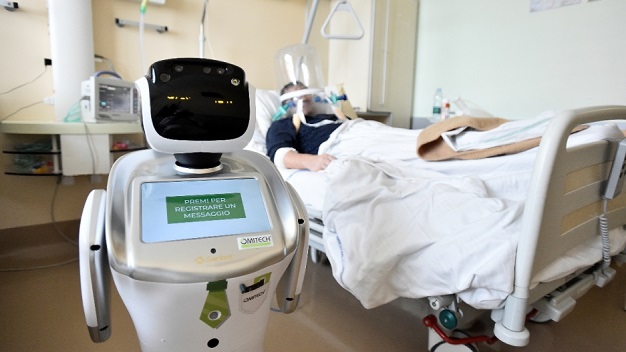 Image Source: Flavio Lo ScalzoReuters from PRI
The healthcare sector around the globe has been immensely overwhelmed due to the COVID-19 pandemic. This is where the valuable aid of robots comes into play. Service robots are increasingly being used in hospitals, healthcare facilities, deliveries and more, to alleviate the demanding workload of nurses and doctors. These robots are helping them disinfect hospitals and other public places as well as monitor patients' statuses, thus decreasing the risk of infection on healthcare physicians. ABI Research estimates the robotics industry to be "worth more than $23 billion by 2021." With its big potential for growth, buyers looking to source high-profit smart electronics could opt to source service robots offered by Global Sources verified suppliers.
How are robots making a big impact in hospitals? In Italy, a robot called Tommy the nurse is being used. Tommy has a tablet, microphone and patient monitors attached. This robot allows healthcare physicians communicate with the patients via video calls to maintain physical distancing. In addition, Tommy remotely records patients' vital signs, blood pressure and oxygen saturation. He is also capable of delivering packages to rooms and collecting items. As a result, viral transmissions from infected patients to nurses and doctors are decreased. Healthcare physicians are given more time to check on more critically patients. Robots are very efficient, as they are not subject to exhaustion unlike their human counterparts. Lastly, there is no need for hospitals to often purchase costly protective gears like PPEs, and gloves or masks since robots can easily be disinfected after they are exposed to COVID-19 patients.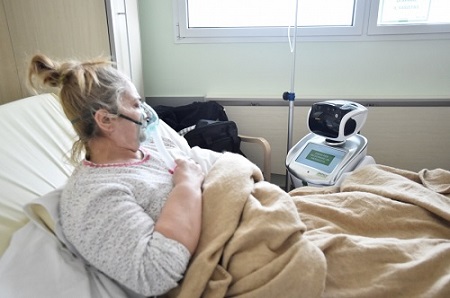 Image Source: Flavio Lo ScalzoReuters from PRI
Robots also help in hygiene and sanitation. Demand for robots has increased in China as these devices are being used to disinfect hospital floors via UV lights. These robots travel through the clinic and hospital hallways and elevators to perform the disinfection, not needing any human intervention. The Danish UVD robot has especially been used to do the job. They can disinfect any area with their UVC lights, which destroy the RNA and DNA of any microorganism.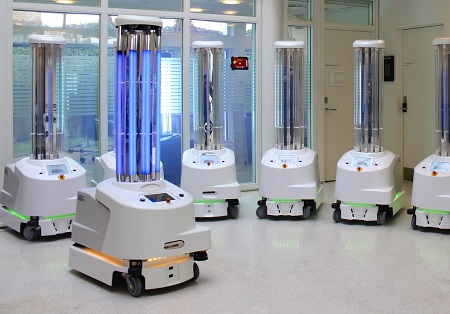 Aside from their use in healthcare facilities, service robots are now helping in delivery services to reduce the spread of viruses from human to human transmission. According to Robot Report, drones are being used to "fly out food, medications, and other essentials such as toilet paper to homebound individuals." Manufacturers of service robots and drones, such as Wing Aviation, are seeing a high demand of orders.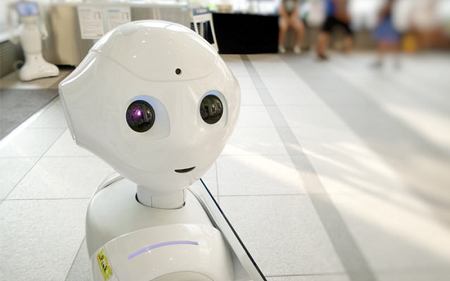 Additional uses of service robots include their use as educational robots in today's online classes, as well as their aid in nursing homes. Robotlab states that service robots that can engage in conversations are proven to help improve the mental health of senior citizens living in these homes.