Console Wars: 9th Generation
Microsoft and Sony both release their ninth-gen consoles this week, setting up a direct showdown in time for Christmas, with the two giants heading into 2021 in a new phase of the console wars. The players have changed (remember Sega?) but the struggle continues. Right now, Microsoft is playing catch-up. Sony has sold 110 million PS4 consoles over the past seven years, more than double the number of its competitor, the Xbox One. Sony has said it expects to sell 7.6 million PS5 consoles through the end of March 2021, beating the sales performance of the PS4.
"For Microsoft, the challenge is to not let Sony get too far ahead – maybe even the game with them," Charles-Louis Planade, a video game expert with Midcap Partners, told AFP.
In technical terms the competition is close. Both new consoles will offer much more powerful central and graphics processing, support 4K displays, and render with ray tracing, which provides much more realistic light effects than the present console generation.
"On paper, at least, the Xbox Series X does look a little bit more powerful," said respected tech review site Tom's Guide. "It has stronger hardware, better backwards compatibility and amore attractive design. Xbox Game Pass Ultimate is a more comprehensive service than anything Sony offers."
The competition for the hearts, minds and wallets of the world's console gamers will be fierce, with no clear verdict yet from industry reviewers, and brand loyalty likely to play a strong role.
When?
The Xbox Series X will launch on November 10.
The PlayStation 5 will be released on November 12 in Australia, Japan, Mexico, New Zealand, North America and South Korea, and November 19 in the rest of the world.
PlayStation 5/Xbox Series X comparison chart
| | | |
| --- | --- | --- |
| | PlayStation 5 | Xbox Series X |
| Price | $500 (PS5); $400 (PS5 Digital Edition) | $500 |
| Release Date | November 12, 2020 | November 10, 2020 |
| Key Exclusives | Spider-Man: Miles Morales, Horizon II: Forbidden West, Gran Turismo 7 | Halo Infinite, Senua's Saga: Hellblade 2, Forza Motorsport 8, State of Decay 3 |
| Backwards Compatibility | Almost all PS4 games, including optimized PS4 Pro titles | All Xbox One games / Select Xbox 360 and original Xbox games |
| CPU | 8-core 3.5 GHz AMD Zen 2 | 8-core, 3.8 GHz AMD Zen 2 |
| GPU | 10.3 teraflop AMD RDNA 2 | 12.0 teraflop AMD RDNA 2 |
| RAM | 16 GB GDDR6 | 16 GB GDDR6 |
| Storage | 825 GB custom SSD | 1 TB custom NVMe SSD |
| Resolution | Up to 8K | Up to 8K |
| Frame Rate | Up to 120 fps | Up to 120 fps |
| Optical Disc Drive | 4K UHD Blu-ray (Standard PS5 only) | 4K UHD Blu-ray |
Popular YouTube channel Unbox Therapy gives a detailed comparison in this video:
In-demand accessories
For buyers, the PlayStation 5 and Xbox Series X launches mean a raft of opportunities in the accessories and peripherals field for both console ecologies.
Controller chargers
U-way Corporation offers a slim-design fast charger for the PS5's new DualSense controller and a dual charger/stand for the Xbox Series X controller.
Controller add-ons & protection
U-Way is also manufacturing a silicone thumb grip kit for the DualSense controll, to customize the PlayStation 5 experience for more control and comfort.
Manufacturers are already lining up customization kits for the Xbox Series X controller too, such as these full-body non-slip covers  and button/trigger kits like the ones picture above, both from Shenzhen Yuyuanxin Electronic Technology Co. Ltd.
This anti-scratch casing, manufactured by Huizhou Chinfai Electronic Co. Ltd, is also designed for the Xbox Series X controller.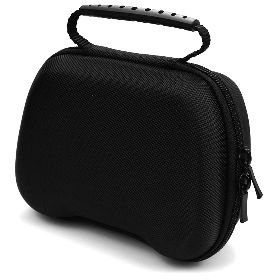 Shenzhen Dasheng Electronic Technology Co. Ltd offers a controller carrying case  to protects a Xbox Series X or PlayStation 5 controller from accidental bumps, falls or scratches. Its soft interior further protects the controller from wear and tear.
Battery accessories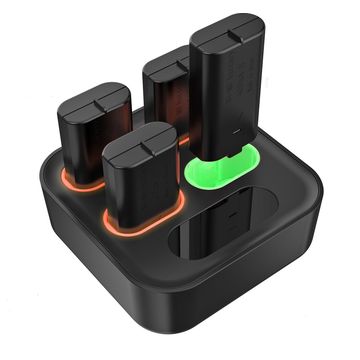 A fully charged battery is also vital, particularly in online multiplayer, when you don't have time to let a disconnected controller freeze your input. Yuyuanxin offers this Xbox Series X charger dock to let players charge up to four Xbox rechargeable batteries at a time. The luminous ring around each socket glows orange while charging and green when charging is complete.
Monitors
Gamers will be keen to take advantage of the new graphical capabilities of the ninth0gen consoles. This will drive demand in the console gamer market for HD gaming monitors. Buyers should be on the lookout for a display with a 120Hz or higher refresh rate, which helps reduce image blur and eliminate tearing, plus is a requirement for active 3D technology. The INNOCN 39A1R monitor (pictured) has a refresh rate of 165Hz and uses a Vertical Alignment (VA) panel, which provides generally better visuals than the common TN panel type, due to high native-contrast ratio, robust colors, and ability to display deep blacks. However, VN panels can produce noticeable ghosting effects, which can hurt gaming performance, so careful testing is a must.