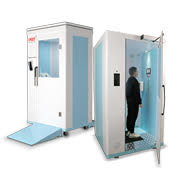 With the COVID-19 situation showing the importance of hygiene and staying protected against viruses, essentials for disinfection and personal or workplace safety are rising in demand – and supply.
Disinfection must-haves, include sterilization chambers – which in some models can even detect body temperature and identify faces – UV lamps and soap dispensers, with automatic and fast-acting functions as key differentiator features.
As regards KN95 masks and workers' goggles, originally designed for protection during construction projects but increasingly used for safety against droplets that may cause sickness, they are becoming more comfortable and easier to wear, having additional skin-friendly filtering layers, or very flexible earloops or bands.
Machines for making masks are also getting smarter, becoming fully automated to meet high demand.
Buyers sourcing internationally will be looking for products that meet CE, FDA and FCC standards, and suppliers are responding to the increased importance of this demand.
The releases in this gallery put together by the Global Sources analysis team represent trends in products for pandemic response.