Published on Monday, 11 January 2016 15:14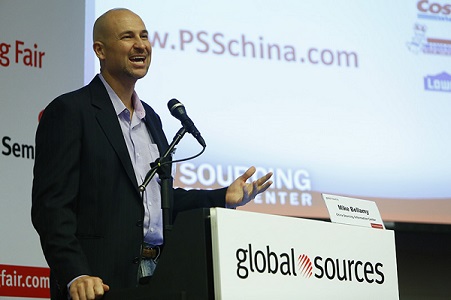 Passagemaker's Mike Bellamy is one of the summit's featured speakers. 
Sourcing experts will conduct a series of interactive training sessions at the Smart China Sourcing Summit in Hong Kong this April 17 to 19, 2016. Co-located with the Global Sources Mobile Electronics and Gifts & Home shows, the summit will be held at the AsiaWorld-Expo.
Mike Bellamy of Passagemaker Sourcing Solutions, Ashish Monga of IMEX Sourcing Services and Manuel Becvar of Mandarin-Gear Ltd. and ImportDojo are among the featured experts providing valuable insight into the importing process.
Designed to enable Amazon and online sellers to source confidently and sell profitably, the summit will have attendees walking the show floor to put into use the importing tips and how-tos from the experts.
Learn how to source from China suppliers at the Smart China Sourcing Summit. Learn more here: www.globalsources.com/summit
Join our Facebook Group at: www.facebook.com/groups/SmartChinaSourcing